Covid-19
COVID-19 UPDATES
BOOKMARK THIS PAGE FOR MORE UPDATES.
We are making changes with the updates news and direction from the CDC, federal, state and local government.
As our community changes, so do we.
PUBLIC HEALTH ORDERS
EFFECTIVE MAY 14, 2021
Per order from the New Mexico Department of Health, if you are fully vaccinated, you can enter Toyota of Santa Fe facilities without a mask.
FROM THE GOVERNORS OFFICE:
"Per the CDC, in most circumstances, fully vaccinated individuals are no longer required to wear a mask in either indoor or outdoor settings. All individuals who are unvaccinated or not yet fully vaccinated are still required, per the public health order and CDC guidance, to wear a mask in public settings. Individuals are considered fully vaccinated two weeks after their second dose in a two-dose series, such as the Pfizer or Moderna vaccines, or two weeks after a single-dose vaccine, such as the Johnson & Johnson vaccine. Individuals who do not meet those requirements must continue to wear a mask in public settings.
New Mexicans are encouraged to continue adhering to COVID-safe practices. All individuals, including those who are fully vaccinated, should continue to wear well-fitted masks where required by localities, tribal entities, and individual businesses. The state fully supports businesses and workplaces that may continue to require masks for employees and/or customers on the premises, regardless of vaccination status."
EFFECTIVE AUGUST 20, 2021
Per order from the New Mexico Department of Health, anyone over 2 must wear a mask inside any public facility regardless of vaccination status. As a result, Toyota of Santa Fe, Express Maintenance and Enchanted Mazda will be requiring all customers wear a mask upon entering our facilities. You are not required to have a mask outside our facilities.
FROM THE GOVERNORS OFFICE:
"Gov. Michelle Lujan Grisham on Tuesday will announce that the state of New Mexico will temporarily re-implement a statewide requirement that facemasks be worn in all public indoor spaces, with only limited exceptions, and regardless of vaccination status, to stem the state's rising tide of COVID-19 infections and hospitalizations."
"The indoor mask requirement will be effective Friday, Aug. 20. It will remain in effect until at least September 15. The governor, acting upon the counsel and analysis of the state Medical Advisory Team and state health officials, may decide to extend or lift the requirement as necessary.."
COVID SAFE PRACTICES
NM COVID19 PROCESSES
We are Here for You. Please wear a mask and continue 6 feet physically distancing 1. If you don't have a mask, please allow us to provide one 2 for you.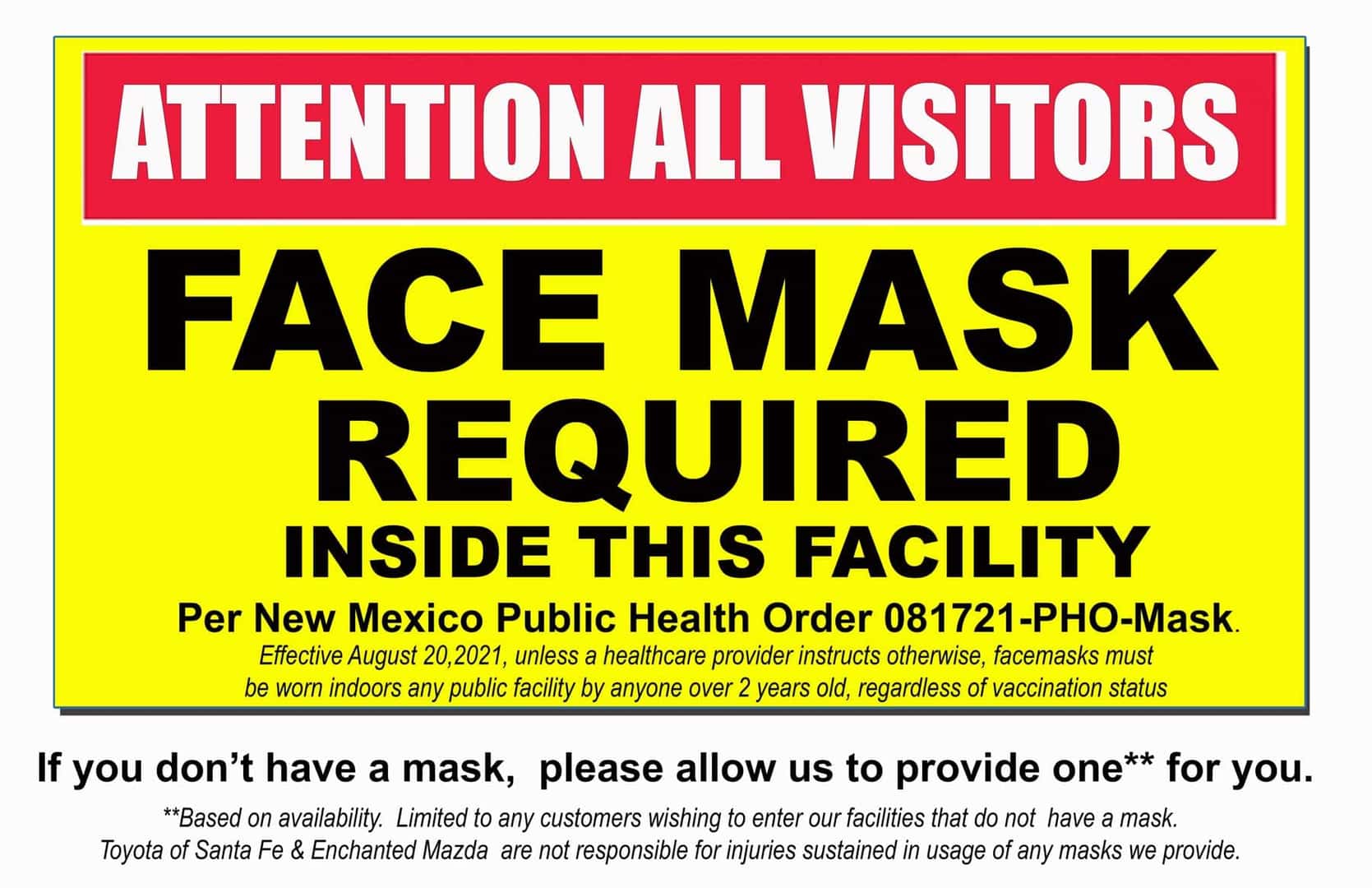 We Follow New Mexico Covid19 Guidelines
1We want you to be safe. As such, we are doing our best to follow all guidelines issued by our Governor and by the CDC. New Mexico Public Health Order Issued 8-17-2021 states that unless a healthcare provider instructs otherwise, all individuals shall wear a mask or multilayer cloth face covering in public settings except when eating or drinking. This includes those vaccinated
We're Here to Help You Be Safe Too
2We are offering customer that don't have a mask one for free based on availability. These are single use basic masks. Limited to Toyota of Santa Fe or Enchanted Mazda customers that do not have a mask. Please remember the use of face masks is not intended to replace other recommended measures to stop the community spread of COVID-19, such as physical distancing, washing your hands and refraining from touching your face. The mask provided by Toyota of Santa Fe or Enchanted Mazda is designed for single time use and is not a replacement for medical grade Personal Protective Equipment. Follow the latest advice of the CDC and your own health care professionals as to how best to keep yourself safe. Be mindful when wearing masks if you have lung disease, like emphysema, or chronic heart disease. Stop using this product if you notice difficulty breathing while wearing it. Children should be supervised by an adult at all times when wearing a face mask to ensure safety. By choosing to wear the face masks Toyota of Santa Fe provides, an individual acknowledges and assumes all risks, known and unknown, associated therewith. The decision to wear this mask is solely your own. Toyota of Santa Fe is not responsible for injuries sustained in usage of any masks we provide.
We are following Covid Safe Practices as instructed New Mexico State Health Department during Covid19.
All surfaces inside our facilities are cleaned regularly.
SALES COVID SAFE PRACTICES
NEVER A NEED TO ENTER, UNLESS YOU WANT TO…
Are you anxious about the recent spread of covid? Or are you anxious wearing a mask inside? Toyota of Santa Fe and Enchanted Mazda have the solution.
Call us first!
Call before you come, and we'll get everything ready for you. Then call again when you arrive, and we'll meet you outside.
No need to ever enter our facilities.
Buddy Plan #6, Enchanted Mazda offers no charge delivery statewide of any vehicle you purchase.
SERVICING YOUR VEHICLE DURING COVID-19
Don't let COVID-19 get in the way of regular service and maintenance in Santa Fe, New Mexico.
We are taking extra steps to ease any concerns. When you drive up, you don't need to come inside at all. We'll write you up using an ipad next to your vehicle. Then you can take one of our no-charge shuttles anywhere in Santa Fe. Relax, we wipe them down before and after every pick up or drop off. Or come inside. Our facilities are kept clean for your safety and ours.